One transistor TX (50MHz DSB)...1trtxph.gif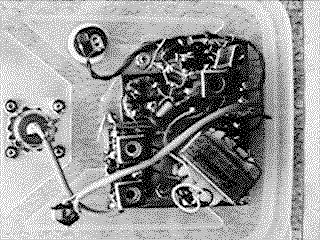 I challenged to make very simple transmitter. It is constructed with only one transistor. It makes DSB signal. It can make QSO with normal SSB station. ***
See fig 1! Carbon microphone modulates 50MHz CW signal. It produces a double sideband signal. It pass through the 50MHz band pass filter. It is radiated by the antenna. ***
See fig 2! Modulator is constructed by diode single balanced mixer. ***
See fig 3! This machine is transmitter. Therefore I must use another transceiver in order to receive the report from my QSO friends. ***
See the table! With this machine I made four QSO's with friends living 50Km distance from me.
1個の トランジスター送信機( 50MHz DSB )

とても簡単な送信機を作ってみる事にしました。2石式、1石式も私のホームページの他のページに紹介されています。今回は、たった1個のトランジスターで作ってみました。それは,DSB式なので、普通のSSB局とQSOすることが可能です.***
図1 を見てください! 炭素マイクで,50MHz CW シグナルを変調して,ダブルサイドバンドの信号を発生します。この信号は,50MHzバンドパスフィルターを通り抜けて,空中線で放射されます.***
図2 を見てください! モジュレーターは,シングルバランスドミキサーで、2個のダイオードによって構成されています.***
図3 を見てください! この機械は送信機ですから,別のトランシーバーをいっしょに使ってQSO相手からのレポート受信しなければなりませんでした。***
表を見てください! この機械で,だいたい50Kmの距離の4局とQSOできました。

1trtx1.gif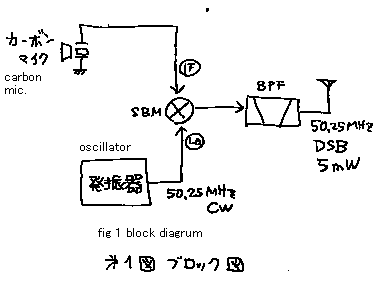 1rttx2.gif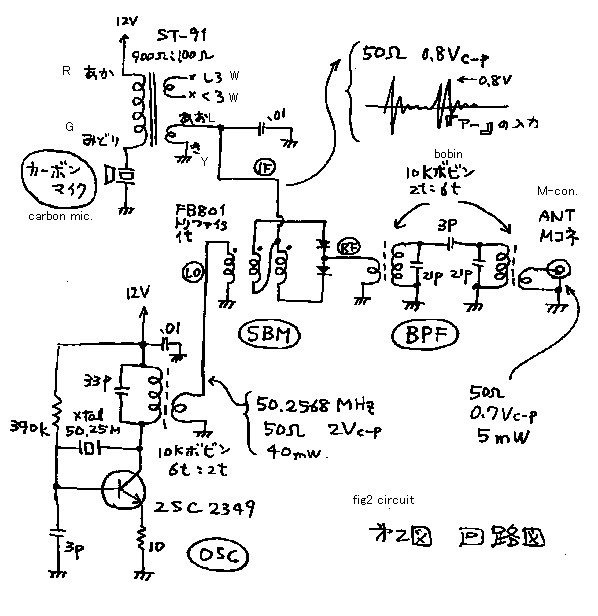 1trtx3k.gif



1. Makeing CQ by 20mW transceiver. Good station makeing contact to me.
2. Transmit by 5mW DSB = this machine.
3. Receiveing report from QSO friends by transceiver.

1.50.227MHzの20mWSSBトランシーバーでCQをだす。応答してくれるのは耳の良い局。
2.50.25MHzDSB5mW送信機で「カーボンマイクを使っています。」等とはなす。
3.また、トランシーバーにつなぎ変えて、相手からレポートをもらう。「カーボンマイクらしい音だった。」との事。




1trtx4.gif was replaced with following table, in order to save memory.

Table1: result of one night local expedition by this transmitter. All QSO was mwde on 18 Dec 1993.
表1:本機の運用の結果。全てのQSOは1993年12月18日。

| | | | | |
| --- | --- | --- | --- | --- |
| time(JST) | QTH of contact station | distance(km) | Report receiv | memo |
| 2121 | Kumagayacity | 67 | 41 | Not good signal.But recognized. |
| 2140 | Kawaguchicity | 57 | 34 | Only call sign was copied. |
| 2205 | kazocity | 47 | 45 | He could hear that I say " Carbon mic is used". |
| 2215 | Kakegawacity | 57 | 45 | Small beet was heard. Carbon mic was heard. |

1trtx5.gif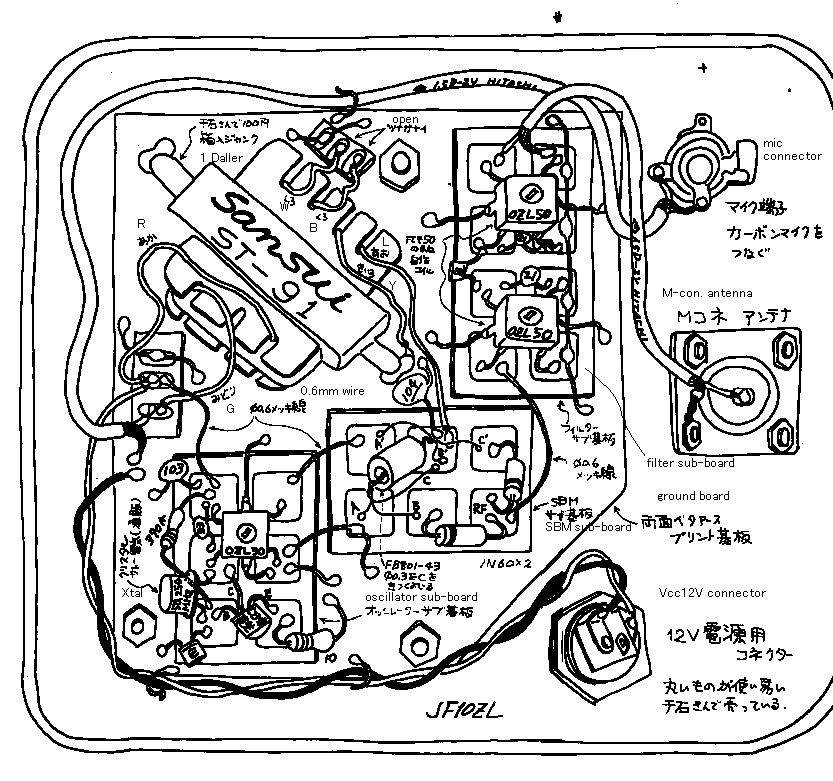 back to index